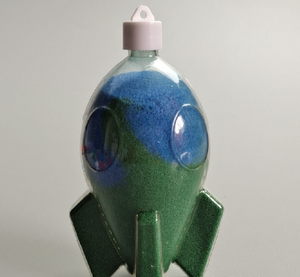 600 PACK Transparent PETG Sand Art Bottle - Rocket Shape (90ml)
Price for 600pcs empty rocket sand art bottle
Material: PETG (Polyethylene Terephthalate Glycol)
Shape: Rocket
Sand Capacity: Up to 140g
Suitable for Children's Sand Art DIY
Versatile for Various Creative Projects Let your children's creativity soar with this transparent PETG sand art bottle in a fun rocket shape. The bottle has a sand capacity of up to 140g, making it perfect for sand art projects. It is designed specifically for children's sand art DIY activities, allowing them to create colorful and imaginative designs. The transparent PETG material enhances the visual appeal of the sand art, making it a captivating display. In addition to sand art, this versatile bottle can be used for other creative projects, such as holding small trinkets, crafting sensory bottles, or showcasing decorative elements. Let your child's imagination take flight with this rocket-shaped sand art bottle.
Mix different shapes, just free to contact our B2B team. 
---
We Also Recommend