---
Bulk Classroom Paint Brushes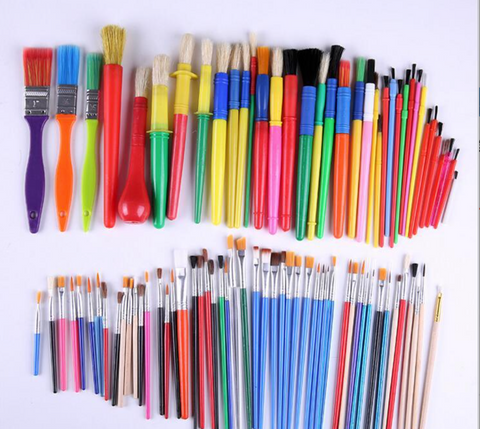 Welcome to Panda Crafty's Bulk Classroom Paint Brushes Collection! We offer a wide selection of high-quality paint brushes specifically designed for toy manufacturers, chain training institutions, activity organizers for children, distributors, wholesalers, gift and toy importers, and other businesses in the industry. Our collection features a range of popular paint brush varieties that are perfect for classroom use and various art and craft projects.
High-Quality Paint Brushes for Creative Minds
At Panda Crafty, we understand the importance of providing top-notch tools for young artists and educators. Our bulk classroom paint brushes are made with care and precision, ensuring durability and optimal performance. These brushes are specifically designed to inspire creativity, promote artistic expression, and deliver exceptional results.
Versatile Brush Selection
Our collection offers a variety of paint brushes suitable for different techniques and applications. From fine detail brushes for intricate work to flat brushes for broad strokes, we have the perfect brushes to meet the diverse needs of art projects in classrooms. Our range includes:
Round brushes
Flat brushes
Filbert brushes
Fan brushes
Angular brushes
Liner brushes
Mop brushes
Specialty brushes
Crafted for Comfort and Durability
Crafted with comfort and durability in mind, our classroom paint brushes feature ergonomic handles that provide a comfortable grip for extended use. The bristles are made from high-quality materials, ensuring smooth and even paint application. These brushes are designed to withstand frequent use and cleaning, making them ideal for classroom environments.
Sourcing and Shipping in Bulk: Your Partner for Bulk Classroom Paint Brushes
At Panda Crafty, we specialize in sourcing and shipping services in bulk, including our exceptional selection of classroom paint brushes. As an international sourcing company, we understand the unique needs of businesses in the toy industry, chain training institutions, and activity organizers for children. Our strategic sourcing services and efficient fulfillment processes ensure a seamless procurement and timely delivery of your bulk orders, specifically for our high-quality bulk classroom paint brushes.
Seamless Procurement and Timely Delivery
When it comes to sourcing and logistics, Panda Crafty has extensive expertise in handling bulk orders. We have established relationships with trusted suppliers and manufacturers in China, allowing us to efficiently source the best classroom paint brushes in large quantities. Our team is experienced in working with 1688 sourcing agents, enabling us to navigate the vendor sourcing process smoothly and effectively.
Once your order is placed, our dedicated team manages the entire fulfillment process, ensuring that your bulk classroom paint brushes are carefully packaged and prepared for shipping. We prioritize efficient logistics to guarantee timely delivery, so you can rest assured that your inventory will be replenished promptly.
High-Quality Bulk Classroom Paint Brushes
Our bulk classroom paint brushes are crafted with the utmost care and attention to detail. We understand the importance of providing top-notch tools for creative minds in educational settings. By sourcing directly from manufacturers in China, we can offer competitive prices without compromising on quality. Our wide range of paint brush varieties, including round brushes, flat brushes, filbert brushes, and more, ensures that you have the right tools to inspire artistic expression and creativity in the classroom.
Customization and Private Labeling
As part of our commitment to meeting your unique needs, Panda Crafty also offers customization and private labeling services for our bulk classroom paint brushes. Whether you want to add your branding or create custom designs, we can help you establish a distinctive presence in the market. Our professional manufacturers are skilled in providing private label options, allowing you to enhance your brand and make a lasting impression.
How to Order
Ordering our bulk classroom paint brushes and utilizing our sourcing and shipping services is simple. You can easily place your order directly through our website or contact us for personalized assistance and customization options. Our team is here to guide you through the sourcing and purchasing process, ensuring a smooth and efficient experience.
Experience the convenience of sourcing and shipping in bulk with Panda Crafty. Explore our collection of high-quality bulk classroom paint brushes and take advantage of our strategic sourcing services and seamless logistics. Contact us now or place your order to elevate your art supplies and enhance the creative environment in classrooms!