---
Stuffed Animals That You Can Draw On And Wash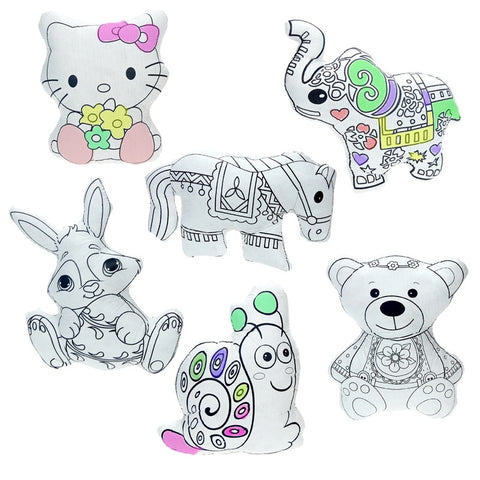 Doodling is an innate ability of every child, and is the most common activity in life. In a stroke, a drawing, a smear, a lick, not only to develop their intelligence, but also in the doodle, to see the children's knowledge of color, aesthetic observation, exercise children's hands-coordination skills.The stuffed animals that you can draw on and wash, which children love to play with, are fully equipped with materials and easy to color; you can exercise your child's sense of color aesthetics, improve your kids's sensitivity to color, draw the animals in your kids's mind, and are easy to operate and convenient for your child to grasp, so that your child can grow up in a colorful world!

Panda Crafts Wholesale is committed to being a good partner for your child's growth. Panda Crafts wholesale network offers you a variety of ways to find materials for painting and washing plush animals. The main materials are wash cloth, PP cotton, and a set of washable markers. The paint on these toys can be washed off and they can be painted again and again. You are free to paint them in any color you want and they can be washed in a washing machine.

With our stuffed animals that your customers can draw on and wash, your customer's children can unleash their creativity and change the look of their toy as often as they want.

You can find any stuffed animals that you can draw on and wash you want with us, We can find different types of paints according to your customer's preference, such as watercolor paints or watercolor brushes that can be mixed by yourself. We can also match the color you want and Use different materials to make your favorite patterns, such as washed cloth, plastic, ceramic, etc . If you have custom needs, please contact us.